About JustSurfRax.com
Thanks for visiting! We're a small company headquartered in California that launched in 2011 to serve Surfers. Unlike big-box surf shops that carry everything under the sun, we focus 100% on Surfboard Rack.
Our Team
The JustSurfRax.com team is made up of a few dedicated surfers who dedicated all their life to travel the world and surf, we're a smaller company with just a handful of staff, and if you end up mailing or calling you'll likely end up chatting with one of us.
Jeff– Customer Service And Orders fulfillment 
Jeff can answer just about any question you might have about surfboard racks!  He's taking care of all orders and customer care from our office in costa rica and is available 24/7 on the phone (except 3 hours a day when he is surfing 🙂 )
 Adam – Webmaster and Founder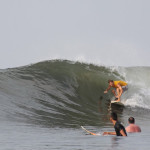 Adam is the founder of justsurfrax.com,  and is responsible for making sure the website is the most informative surfboard racks resource online!, he also is extremely knowledgeable about our line of racks, and is happy to answer any questions you may have.  When he's not working, he loves surfing and travel the world to exotic places and discover new waves and cultures.